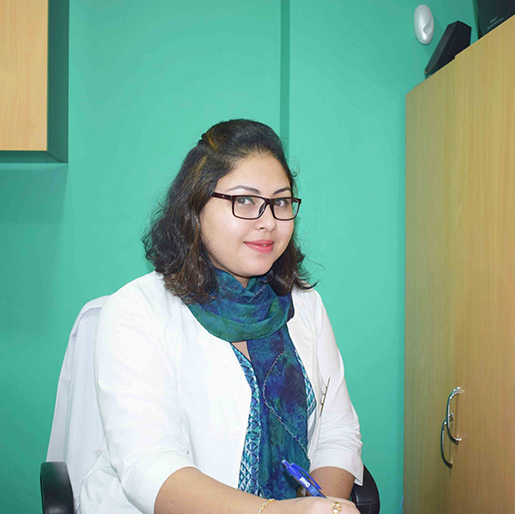 DR. GARGI SARKAR
Dr. Gargi Sarkar, BDS – SDM Dental Sciences, 2012, Orthodontics & Dentofacial orthopedics . Dr. Gargi Sarkar is an orthodontist and has experienced over various different cases. She was trained under very reputed college and guide. Dr. Gargi Sarkar is a certified implantogist from Nobel Biocarewhich is a well recognized entity in 2016. She is even specially trained to deal with dentofacial orthopedic and jaw problems, surgical orthodontics, cleft lip and palate, special child management and in cosmetic dentistry.
She is presently in Kolkata and is working as an orthodontist consultant for many hospitals in and around Kolkata. She also visits Kusum Devi Jain Dental College in Cossipore as an Assistant Professor.Education at
BDS – SDM Dental Sciences, 2012
MDS – Orthodontics & Dentofacial Orthopaedics – Bapuji College of Dental Sciences, Davangere, 2015
Awards and Recognitions
Gold Medalist in Orthodontics – 2015 1st Prize in Innovative Paper presentation in National
Gold Medalist in Orthodontics – 2015
1st Prize in Innovative Paper presentation in National Convention 2014 Memberships
West Bengal Dental Association
INDIAN ORTHODONTIC SOCIETY (IOS)
FAQ
Frequently Asked Question
At our Kolkata clinic, we offer a wide range of dental services to cater to your oral health needs. Our services include preventive care such as dental cleanings and check-ups, restorative dentistry procedures like fillings and crowns, orthodontic treatments to straighten teeth, cosmetic procedures for smile enhancement, and specialized treatments designed to address specific dental issues. We are committed to providing comprehensive care to maintain and improve your oral health.
Booking an appointment at our Kolkata dental clinic is easy and convenient. You can schedule an appointment by calling our clinic at 9830947151 during our regular office hours. Alternatively, you can visit our website and use our online appointment booking system, which allows you to choose a date and time that suits your schedule. We also welcome walk-in patients, although appointments are recommended to minimize wait times.
our first visit to our clinic is an important step towards achieving optimal oral health. During this initial appointment, our experienced dental team will conduct a comprehensive oral examination, which may include X-rays if necessary, to assess your dental health. We will discuss your dental history, any concerns you may have, and create a personalized treatment plan tailored to your needs. This visit is also an opportunity to address any questions or concerns you may have about your oral health and treatment options. We aim to make your first visit comfortable and informative, setting the stage for a positive dental experience.
Regular dental check-ups and cleanings are essential for maintaining good oral health. We recommend visiting our Kolkata dental clinic every six months for routine check-ups and cleanings. However, the frequency of your visits may vary depending on your specific dental needs. Our experienced dentists will assess your condition and provide personalized recommendations to ensure your smile stays healthy and beautiful.
Yes, we understand the importance of children's dental health. Our Kolkata dental clinic offers paediatric dentistry services to cater to the oral care needs of children and teenagers. Our friendly and experienced paediatric dentist specializes in treating young patients, making their dental visits comfortable and positive experiences. We offer services such as routine check-ups, dental cleanings, orthodontic evaluations, and cavity prevention to ensure your child's smile stays healthy from an early age.